ACG Milton
ACG Milton, formerly Bill's Auto Body, has been serving the Milton and surrounding areas for over 50 years. This location has over 10,000 square feet of production space and has undergone a recent renovation. ACG Milton uses the most up-to-date equipment available to repair your vehicle, but it is the skill and attention to detail that makes us stand out from the competition. We're always working harder to stay #1!
Address: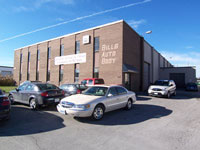 Shop Manager: John Barbosa
ACG Milton
155 Nipissing Road,
Milton, ON
L9T 1R3
Tel: (905) 878-2721
Fax: (905) 878-3251
Email: milton@acgatlantic.com
Hours of Operation:
Monday – Thursday – 7:00 A.M. to 5:30 P.M.
Friday – 7:00 A.M. to 5:30 P.M.
Saturday – 7:00 A.M. to 1:00 P.M.
Map:
Payment:
Cash, Debit, Visa, Mastercard
Locations
---
---
News
Mark Your Calendars! July 19th 2013 - Nobleton Lakes GC Atlantic Collision Group's (ACG)  21st Annual ACG Golf Tournament is here again. In keeping with (read more...)
---
This year marked the 40th anniversary of the Streetsville Bread and Honey Festival, although the weather prediction wasn't favorable, the rain held off and (read more...)
---
On June 3rd Team ACG Cycling were pedaling on the Gardiner and Don Valley Parkway.  We were part of 13,000 cyclists of all caliber riding our bikes in (read more...)
---